Garrison Institute on Aging
WELCOME
Our mission is to promote healthy aging through cutting-edge research in aging-related health issues, such as Alzheimer's disease, and through innovative educational and community outreach programs. The GIA is committed to addressing health issues of the aging population by investigating the causes of neurodegenerative diseases and educating the community on preventative medicine and challenges impacting the geriatric population.
Using cutting edge research methods and state of the art techniques, scientists at the GIA are actively working to identify novel targets and develop and test promising new drug compounds to improve healthy aging and to prevent and/or stop the progression of neurodegenerative and other aging-related diseases. In addition to research facilities for behavior, electrophysiology and molecular biology, the GIA houses biobanks for human brain tissue, bodily fluids, and DNA. Educational and outreach programs include the Translational Research Seminar Series, Healthy Aging Lecture Series, Caregiver Program, Retired Senior Volunteer Program (RSVP), Chronic Disease Self-Management Program and Healthy Lubbock.
Our vision is to serve as the central hub within TTUHSC to stimulate and accomplish collaborative initiatives in research, education and community outreach related to healthy aging and aging-related disorders. Through a combination of GIA based programs and collaborative initiatives with colleagues across TTUHSC, the GIA seeks to provide a unique platform for the creation and application of new knowledge about healthy aging through research, interdisciplinary education and community outreach efforts.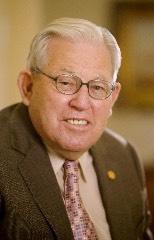 History
In 1999, TTUHSC leadership identified aging as a strategic priority for the 21st Century. The Board of Regents approved the establishment of the Institute for Healthy Aging which was renamed in February 2005, in honor of Mildred and Shirley L. Garrison.
Executive Director
GIA advances and disseminates knowledge about healthy aging and aging related health issues, including neurodegenerative diseases such as Alzheimer's, through basic and translational research. GIA houses a newly created behavioral testing and electrophysiology facility, molecular biology laboratories, brain bank, and a longitudinal epidemiological data base on aging in a multiethnic adult sample from rural communities of West Texas (Project FRONTIER).
Aging-related nervous system dysfunctions represent a major health care problem in this country and worldwide. The better understanding of disease mechanisms is needed to develop novel and improved diagnostic and therapeutic tools and strategies. GIA provides the infrastructure and expertise for collaborative efforts of basic scientists and clinicians from various disciplines and specialties in the area of aging-related and neurodegenerative disorders.
Thank you for visiting our website. Please feel free to contact the GIA team headed by Dr. Neugebauer with any questions or for more information.
Volker Neugebauer, M.D., Ph.D. (Learn more about
Dr. Neugebauer
) Executive Director and Chief Scientific Officer, Garrison Institute on Aging Mildred and Shirley L. Garrison Chair in Aging Professor and Chair, Pharmacology and Neuroscience Director Center of Excellence for Translational Neuroscience and Therapeutics Giles C. McCray Endowed Chair in Addiction Medicine
Connect With Us
Healthy Lubbock