Retired & Senior Volunteer Program
Program History & Information
Lubbock RSVP is a grant funded non-profit agency that was established in 1979 and is under the umbrella of the Corporation for National and Community Service (CNCS) and Senior Corps. It was established with the purpose of encouraging adults, who are 55 and older, to volunteer and assist the Lubbock community by using the abilities, interests and skills they have acquired throughout their life. The program engages seniors in a wide array of community services that help non-profit and community based organizations including health, nutrition, human services, education, community and economic development and public safety. RSVP currently has 574 active volunteers serving the Lubbock community. In 2020, Lubbock RSVP had 435 volunteers reporting due to the COVID-19 pandemic. RSVP volunteers contributed 61,573 volunteer hours which translates into $1.675 million in economic impact to the Lubbock community.
And the Award Goes to.... DRUM ROLL PLEASE!!
The award for the Presidential Lifetime Achievement Award went to these wonderful people. They have contributed more than 4,000 hours of volunteer service to our community. They were presented the award and received a certificate from Senator Ted Cruz as well.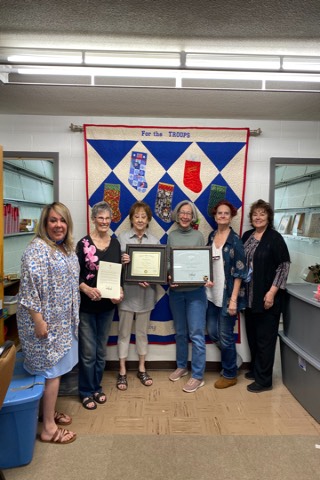 Donna Naussbaum
Works on the Stockings for Servicemen Project. This project was started in 2007 and has mailed out over 48,000 stuffed stockings to our military overseas each year during Christmas time. If you or anyone is interested in this project give us a call at the Lubbock RSVP office (806) 743-7787.
Tony Kite
Volunteer for the Friends of the Library (FOL). The Mahon Library has a basement full of books that are donated by the public. The volunteers go through the donated books and shelf them for sale to the general public at a reduced price. The book funds programs in the library and programs that help children and adults read. The FOL currently has book sales on Fridays for members only. If you would like to volunteer at the Friends of the Library give us a call at (806) 743-7787.
Lillian Azahgarhi
Volunteer for the Friends of the Library (FOL).
Tommy Largent
Volunteer for the Friends of the Library (FOL).
Drive Thru Recognition
TTUHSC Garrison Institute on Aging & Lubbock RSVP hosted a drive thru recognition to celebrate RSVP volunteers with a take home lunch. On March 22nd & 23rd, 120 volunteers received a lunch.

Benefits of Membership


Free enrollment to any adult 55 and older
Supplemental insurance coverage at no cost to volunteer
Stay active and socialize with other volunteers
Free events through the year:

Informational Forum - focused on educating and informing seniors on how to age well physically, mentally, emotionally and financially.

Movie Night - volunteers and friends can enjoy a night of food, fun and fellowship while watching a classic movie.

Recognition Dinner - formal banquet for members and guests to enjoy a free meal and musical entertainment. Volunteers who have reached 4,000 hours of service are recognized with the Presidential Lifetime Achievement Award.
Senior Resources
Lunch and Transportation Programs click HERE.
Lubbock Meals on Wheels delivery service click for Application Form.
Lubbock has a large number of volunteer opportunities such as, Lubbock Meals on Wheels Inc, Lubbock Public Library, Ronald McDonald House, Covenant, Lubbock Community Centers and so many more. Please contact RSVP for more information and how you can get involved. 806.743.7787

Our Friends at Lubbock RSVP -
Thank you for the cute pillows and bears! These are such great gifts for our families. We appreciate all that you do. Thanks for always sharing your huge hearts with us.
Your friends at Ronald McDonald House Charities of the Southwest
Got Questions?
Becoming a member of RSVP is simple! Contact us if you have questions.