Useful Tools & Resources for Recognition
Whether you strive to improve as a supervisor or just seek to provide effective communication as a team member, these ebooks and websites provide helpful materials for your individual workplace development.
The 5 Languages of Appreciation in the Workplace
by Gary Chapman and Paul White
This book will give you the tools to improve staff morale, create a more positive workplace, and increase employee engagement. How? By teaching you to effectively communicate authentic appreciation and encouragement to employees, co-workers, and leaders. Most relational problems in organizations flow from this question: do people feel appreciated? This book will help you answer "Yes!" READ FOR FREE NOW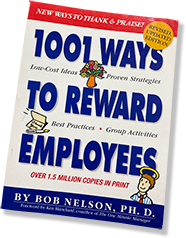 1001 Ways to Reward Employees
by Bob Nelson, Ph.D.
Why is 1001 Ways to Reward Employees, with over 1.4 million copies in print, such an extraordinary bestseller? Because a little over ten years ago Bob Nelson took the seeds of an idea and turned it into something indispensable for business. The idea? That it's not a raise that motivates an employee, and it's not a promotion—what really sparks a person to perform are those intangible, unexpected gestures that signify real appreciation for a job well done. READ FOR FREE NOW
The Power of Moments: Why Certain Experiences Have Extraordinary Impact
by Chip Heath & Dan Heath
The New York Times bestselling authors of Switch and Made to Stick explore why certain brief experiences can jolt us and elevate us and change us—and how we can learn to create such extraordinary moments in our life and work. While human lives are endlessly variable, our most memorable positive moments are dominated by four elements: elevation, insight, pride, and connection. If we embrace these elements, we can conjure more moments that matter. READ FOR FREE NOW
We've Got Spirit, Yes We Do!
Show your school pride by sporting some of our TTUHSC gear! Vitals spirit shop is the official home for Texas Tech University Health Sciences Center merchandise. Established in 2019, Vitals spirit shop specializes in TTUHSC gifts, apparel and school spirit swag! In-store pickup or delivery available.