Surgical Simulation & Skills Laboratory
With recent trends in post graduate medical education such as work-hour restrictions and the increased complexity of surgical techniques, learning basic skills in the OR has become a difficult option.
The Surgical Simulation & Skills Laboratory at The Texas Tech University Health Sciences Center is an integral part of the Department of Surgery's residency program. There are two laboratory spaces, one for laparoscopic and endoscopic skill and another for open and vascular skills. Here at Texas Tech, there is a strong emphasis on laparoscopy or minimally invasive surgery, an exciting and rapidly growing technology used by nearly all surgical specialties.
In this lab; the technical skills, the principles of laparoscopy, the principles of surgery and the hands-on practice with feedback has been implemented. The main facility consists of a laboratory area in the Department of Surgery at the Texas Tech University on the third floor of the Texas Tech University Health Sciences Center Building. There are additional educational activities in the lab animal facility and cadaver lab.
The surgery department's first-year surgical residents use the lab to prepare them for their experiences in the operating room. Mid-level and senior residents continue to develop and refine their technical skills. This curriculum based on the ACS/APOS technical skills curriculum, phase one and two. In addition to the general surgery residents, residents from other surgery specialties will use the lab, including Orthopedics, OB-GYN, and Urology. Third-year medical students learn basic surgical skills like suturing and knot tying at the center as well.
Every effort is made to make the program at the intern level applicable to all surgical specialties by including topics such as:
Proper instrument handling;
Basic and advanced open suture skills;
Introduction to laparoscopic surgery;
The lab is equipped with two computers to allow for internet access as well as multimedia presentations.
Inanimate suture models, Pig's feet, and vessels are used to practice basic suture skills and enteric or vascular anastomotic techniques on organic tissue.
Four towers with monitors and light sources support the four box trainers to practice laparoscopic skills such as tissue manipulation and dissection, application of Endo-Loops, and intro/extracorporeal knot tying. In-house laparoscopic box trainers used in the practice skills that comprise the Fundamentals of Laparoscopic Surgery (FLS) program, developed by SAGES and jointly supported by the ACS. FLS is a comprehensive educational module designed to teach the fundamental, technical skills required in basic laparoscopy.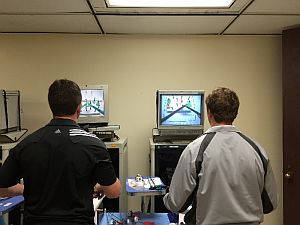 Here at Texas Tech, we enjoy great support from vendors for our educational activities as well as with programs in laparoscopic skills, live tissue labs, knot tying and suture boards and laparoscopic trainer boxes provided for re
sidents.
In addition to the activities in the Skills Lab, residents participate in six cadaver labs per year. The topics including Advanced Surgical Skills for Exposure in Trauma (ASSET), upper extremity exposures, lower extremity exposures identifying the CFA, SFA, and PFA; neck exposures with cricothyroidotomy/tracheostomy, opening the carotid sheath and identifying its contents. Chest exposures discussing indications for sternotomy vs. anterolateral thoracotomy; open the pericardium while identifying the phrenic nerve; Discuss operative repair of heart, relationship to coronary vessels, etc.; Discuss open cardiac massage; Transect the aorta and repair.
In the abdomen; Perform long midline laparotomy. Discuss packing principles; discuss and perform supra-celiac aortic control. Perform urgent splenectomy; recognize and verbalize potential pitfalls; perform a Pringle maneuver; perform bilateral, unilateral medial visceral rotations. Dissect out bilateral iliac arteries and veins are noting the relationships of the structures.
The Surgical Simulation & Skills Lab is also open for the residents to return independently and practice 7 days a week. Our facility is used for skills sessions and workshops by the departments of OB-GYN, Urology, and Orthopedics.
The Texas Tech Department of Surgery also is a member of Texas Association of Surgical Skills Labs (TASSL). Dr. Ari Halldorsson is a past president. TASSL's mission is to enhance education using simulation-based training for surgery residents and other learners by fostering collaboration and research.
Online Courses and Testing: